Continuing the traditions of 'Roadside Cuisine' market research, Bill and the boys headed off on their motorbikes to the Cape, via the backways and byways, for the latter part of March.
One can never be certain of the route until we've have woken up each day but it usually includes a few wine farms,  food markets and dodgy drinking joints!
Hope the roads to the Cape are better than this…[taken crossing the Ravuma river into Tanzania on one of our Africa trips!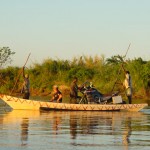 As it happened, we had glorious weather and ultimately I took a week and did 70% of the journey on dirt roads and saw the country in a completely new light. With all the rain we have had S.A has never looked so good and the Karoo was positivly 'lush'.
Some interesting riding through the Naudesnek and Tiffendel passes near roads produced a few mishaps that tested us and then by the half way mark rest of the bunch had all left for home and missed some of the best riding as I continued to C.T on my own. I hardly saw cars for days on end and there was no 'roadside cuisine' to speak of so when I got to Cape Town a week later, it was a pleasant change to join Albert and Cheryl Roux [he of world renowned fame- Le Gavroche in London etc] at Vondeling wine estate for the weekend. Had a great lunch at the very 'in' Babylonstoren Wine Estate but the home cooking was best, as you would expect when there is a world famous chef in the house!
A whirlwind of wine estates and restaurants over the following week didn't produce much execept for the Sidewalk Cafe in Vredehoek [part of the Madam Zingara stable] which was awesome.
I finally loaded my abused liver onto the bike as well as my daughter Jade [@ UCT] and we headed back to Durban at a leisurely pace on the backroads.
With precious cargo on board the plan was to stick to regular roads, but the dirt bug bit and soon it was the road very less travelled. What an amazing adventure to share with my daughter and for once I shut up and saw the world through her eyes. Man, did I learn a lot and the best part was that she did the driving on the tar! [not bad on a 1200 adventure with a lug like me on the back]
A highlight was the cafe in the sleepy hollow Willowmore, what a gem! and then the road stall near Jansenville [Karoo] with the best game pies in the world.
Ok, so the market research didn't turn up much but I got to see S.A as I've never seen it before!