NEWS ALERT
DUE TO THE DESTRUCTION OF TOURISM AFTER THE COVID PANDEMIC WE WILL BE CLOSED UNTIL THERE IS VIABLE LEVELS OF BUSINESS AGAIN. Our apologies for the inconvenience. Keep track of us on F.B (Prawn Shack) or on www.shak.co.za
Welcome to the Marula Shak, where you can enjoy a long lazy lunch in the pristine bush environs of the Nkumbe Wildlife Estate. Our unique venue is a haven of tranquility, but still offers a memorable party (that is, unless our swings and hammocks bring out your inner sloth first!). It's a must-do while you're in Ponta.
Nkumbe Wildlife Estate offers accommodation in either the larney tented camp or in a selection of upmarket, self-catering chalets.
The 50-seater conference venue, combined with the Marula Shak serves as an ideal venue for all those special functions, weddings, conferences, and team building events.
The Marula Shak and Nkumbe Wildlife Estate are also a great base from which to venture out into all the exciting activities that the area has to offer.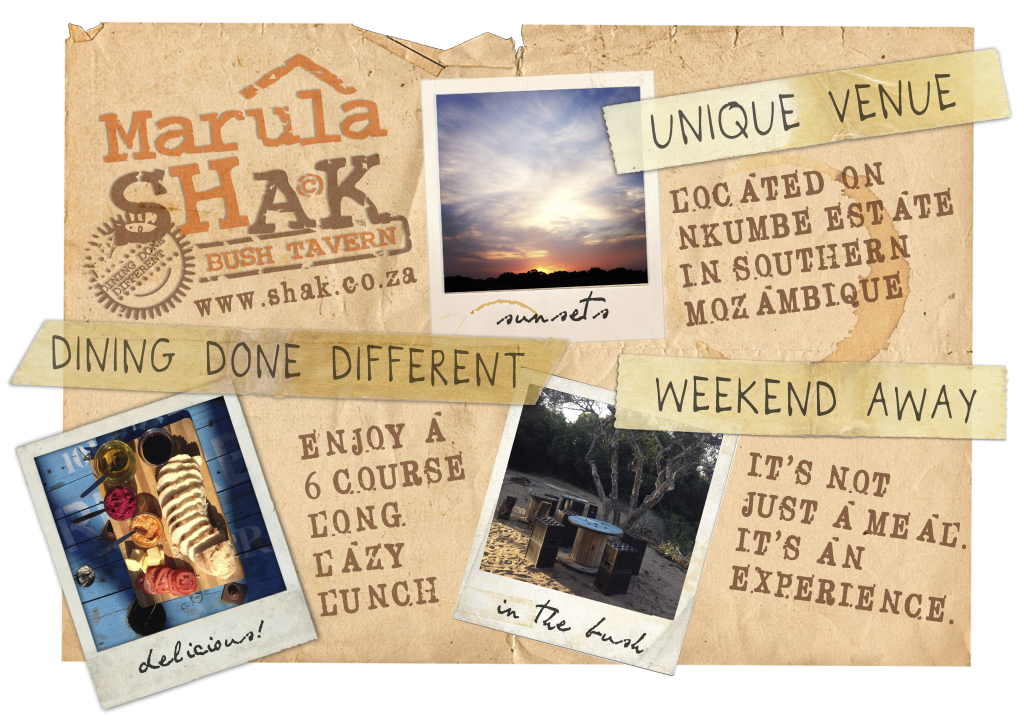 MARULA SHAK MENUS

The Marula Shak is situated in the pristine surrounds of the Nkumbe Wildlife Estate
We are open most of the time, but we may be out fishin or drinkin – and we'd hate to miss you, so give us a call first. The venue lends itself to Long Lazy Lunches (dinners) so check out our set menus and activities. It's ideal  for functions, parties, conferences etc
We mostly do booked functions with Long Lazy Menus with a choice of items covering Thai, Mexican, Shisanyama, Portuguese and Old Favorites from our many other restaurants over the years.  There are various activities on offer to keep you busy between courses.
SET MENU'S Please book in advance if you have preferences otherwise try the menu of the day. Remember, Fusion rules, so try a selection of different thing
BOOKINGS    +27 83 3034746